The founder of Ningbo Jinteng Bee Co.,ltd---Mr. Wu Jianrong, started beekeeping in 1973,he accumulated an unique and profound understanding of bee breeding management technology and culture, health care and efficacy at 20 years of beekeeping career. In 1992, Mr. Wu Jianrong started his bee products business , establishing Yuyao Yanling Bee Products Co., Ltd. And after 10 years of unremitting efforts, he founded the joint venture - Ningbo jinteng bee co.,ltd.
Jinteng bee work with 120 group beekeeper bases,and each group has 3-4 bee farmers who has decades of beekeeping experience. We regularly forwards them with the newest knowledge about honeybees?honey sources?organic products, and improves the communicating about self-attainments between apiarists.
Covering 6900? for the area of the workshop.,Jinteng Bee gets advanced bee products processing equipments and strict quality guaranteeing system.We possesses an independent laboratory, where, in addition to routine tests of bee products, antibiotics residue tests for chloramphenicol, streptomycin, tetracycline and so on can also be performed. The advanced testing equipments and strict quality control measures are the reliable guarantee of high quality products that meet customer needs.
After years of development,Jinteng bee's products including honey,pollen,beeswax,royal jelly and beekeeping equipment which have exported to more than thirty countries and regions in the world.
Jinteng bee's goal is the best quality and the customers' satisfaction, to develop ourselves and establishment company brand.We are expecting to work with you, every friends from the world, you are always welcome to visit us in any time.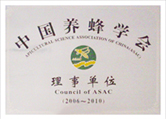 Member of ASAC